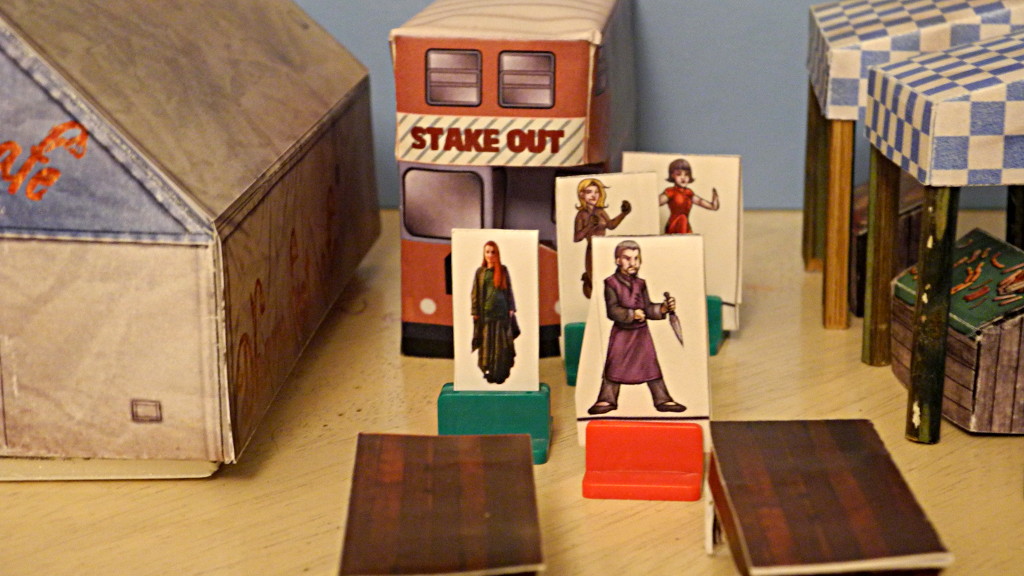 Codicil
Elli begins to act on the prophecy in her vision, trying to retrieve the ancient text the "Codex Appollonius" that Jerome Willoughby had stolen. She (again) convinces her friends to take the bus to Devon to see how Patty's great uncle is doing, but it doesn't all go the same way.
The Italian chef Salvatore is even more annoyed about using the bus as a bus than he was in Elli's vision, and Patty's nonchalant reaction annoys him further. He leaves.
But retrieving the book starts off easier. Jerome asks for a private word with Elli, and invites her to retrieve all of his "overdue library books" (he says; she's not so forgiving) for the Pythagoreans. But he's lost the Codex Appollonius! Even though all his scrying points to it stll being in his home, he can't find it.
When they get to Jerome's home, it's untouched by demon burglars, and Elli can look for the books whilst Patty goes through the cupboards to see what wonders she can cook up with what's available, and goes for the (accidentally vegan) Beef & Tomato Flavour Pot Noodle.
Elli finds another seven books from the Pythagorean library, as well as something more disturbing. There are wards and crafted magical artefacts (such as a ring that should detect lycanthropes) that seem to have been drained of their magic. And the Codex is nowhere to be seen.
She borrow's Jerome's components for a spell of location, which points to the library. But it's not there. A repeated spell narrows it down to a single stack, but it's not there. She can't find any hidden shelves. Patty and Katrina help her empty the stack, and Katrina says she thinks she saw a bigger book in the middle of her pile for a moment … but it's not there any more.
Elli gives up and calls her teacher the Mathematikos for help. He suggests that the codex's accretion of magical wards are hiding it from magic-addicted Jerome. And when Elli tries simply reassuring the Codex that she means it no harm, a large book appears in the middle of Katrina's pile -with metal clasps and a title in Greek letters. The Codex Appollonius. Which Elli takes back to London, and cycles with it all the way to the Pythagorean HQ.
Vegan Food Market, Brewer Street, Northern Quarter, Manchester
Sat 5th August
Elli's old activist Susan Campbell helped arrange their stall at a vegan food market she was assistant managing in Manchester. So they're setting up with sausage rolls and "Patty's Patties".
But evil wizard Robin Willoughby has kidnapped the event manager, is magically impersonating him, and replaced Susan Campbell with an ally. His new assistant, who calls herself Stacey, has blonde hair, an American accent, and a leather jacket (which everyone assumes is fake). She piques our heroes interest with her swirly tattoos and a thin red line round her neck and throat.
So when Robin-as-manager says hello, he offers magically laced chocolate butternut doughnuts (which our heroes take), and says he hasn't heard anything from Susan, suggesting they investigate.
He knows what they're going to find. A body in Susan's bed, somewhere between burnt and mummified. When Elli and Katrina search the place, with a combination of Elli's telekinesis and Katrina's physical force, Elli also finds a geometric pattern burnt around the window and some blue powder.
Calling Matthew at The Council, he gives them the password to access the occult collection at the nearby John Rylands Library for research.
Library
The John Rylands Library
This time, Patty accompanies Elli instead. But barely has the librarian escorts them to the occult collection, when the butternut kicks in and Patty shifts to werebadger. The librarian double-takes, but Elli casts a swift illusion spell to hide the change before she panics. And the librarian, somewhat disturbed, heads back.
Back in the room, after another call with her Mathematikos for advice, she sings softly to Patty to calm her back to human before returning to research. He also hints that the Codex contains interesting thoughts on the "Manipulation of Platonic Forms".
Elli's research points her (as Robin intended all along) to mummies that drain the life force from victims, leaving them looking something between burnt and mummified. These undead creatures are formed by ritual sacrifices, but magically bound. There's a marginal note about an Incan example that appeared in Sunndydale California in the 1990s.
Stacey's tattoos are reminiscent of iron age Britain, which has its own share of bodies ritually sacrificed, decapitated, and preserved in peat, including near Manchester
As for the geometric burn at the window, this could be one of several open door spells – such as one that a writer called Enophagus traces down to the Scriptorium of Rhodes. (Patty think's she's found a spell too, but Elli points out that the door it opens is to a hell dimension.)
Confrontation at the Market
Once back at the market, Patty tries to investigate further. She acts to return the doughnut "favour" by offering them some sausage rolls. She admires Stacey's tattoos and gets her to roll up her sleeves for a pic (which Stacey, as a fake mummy, is happy to do). She hugs both "organisers" and takes a big sniff (with her enhanced badger-senses). She doesn't pick up on Robin being Robin, but she easily notices that Stacey's leather jacket is a real leather jacket – not something that a vegan food fair organiser should be wearing.
The tattoos further confirm Elli's belief that Stacey is a peat bog mummy.
To trick Stacey into the bus, Elli tells her she's pulling out of her hurdy-gurdy performance because she's so upset about Susan, but invites her onto the bus to talk about it.
Katrina and Elli try to corner her on a table on the top of the bus, challenging her about the leather jacket (the most obviously glaring exception). Stacey stonewalls, saying it's none of their business, and she only stopped into help at the last minute. For a moment, it looks like they'll come to blows. But Katrina allows her to squeeze past her and down the stairs.
When things are a little quieter, Elli follows, making all her accusations, and quizzing Robin-disguised-as-organiser about what Stacey is doing there. Once a couple of people are filming, and Elli is waving her hands close enough, Stacey flips backwards dramatically as if Elli had forcefully punched her (a stunt a normal human wouldn't be able to pull off.) And Robin-as-organiser tells Elli she'd better leave.
And Robin begins using the viral video of the incident, and the organiser's contacts and status in the vegan movement, to undermine The Stake Out's bookings.
Confronting Stacey
The market site is a car park, across the road from a budget hotel and next to the canal. Elli waits in the hotel café, where Patty and Katrina join her after business shuts down.
Logically enough, it's also the hotel where Stacey is staying – right across from the site. Helped by another of Elli's illusions, disguising them as staff, they follow Stacey upstairs to her room. Where they try to follow her in, claiming to be "room service".
Stacey is having none of it. Stacey blocks Katrina with a punch. Patty tries to kick her in the knees, but she jumps out of the way.
Then Stacey is hit by a kettle from behind – one of the objects that Elli is telekinetically throwing at her, forcing her to turn around. Stacey somersaults over the bed. With one motion she lands, opens a box with her palm, grabs a pistol with the other, and fires.
The shot misses Katrina, and Elli manages to freeze Stacey with another spell. Patty(?) throws the gun out of the window, and our heroes have a chance to question her and search the room before the police arrive.
Stacey is confident and mocking. But searching the room, they find evidence of fake tattoos, and multiple identities. Matthew at The Council confirms two of these as known cover identities of Victoria Aspen, mercenary slayer.
This is a slayer pretending to be a mummy. But our heroes suspect ???.
Patty takes an expanding staff from Patty's weapons cache before throwing it out of the window, into the internal courtyard below. (Which is now the source of shocked shouting.)
Our heroes leave just as the police arriving, disguised by another illusion from Elli.
Suburban Planning
By now, most of The Stake Out's upcoming bookings have cancelled, but as Patty puts it, that's "tomorrow's problem". They decide to pretend to leave for London, park in a suburb, and plan.
Patty goes through Stacey's 'phone, and manages to find a few messages with Robin hinting at the mission – how they have "bagged" the real organiser, how "our sponsor's substitute Susan will really rile them", "trust me, this is what a mummy looks like", and the price of "$4000, $6000 if the artefact is obtained post-bankruptcy".
When Elli gets an email supposedly from Susan Campbell herself, who has supposedly simply woken up in her own bed with no knowledge of her demise, she dismisses it as a trap.
Vegan Food Market, Brewer Street, Northern Quarter, Manchester
Sun 6th August 2017
They drive the bus straight into the vegan fair, and see the organiser in the middle. They're not sure if the organiser is a doppleganger, or being mind-controlled, or something else, but Elli opens by throwing a vial from the bus down at his feet – the final component of a spell to lift the veil. And Robin is revealed.
Elli quickly uses her freeze spell again. Robin has the long stems of a plant wound around him, and entering his ears. She recognises it as Jath'tog Mandrake – a semi-sentient plant that throws illusions around its predatory mobile seed, and is used by Jath'tog demons to cast powerful illusions that can impersonate a captured victim.
But she knows the rest of the plant must be nearby.
Patty has a proper sniff of the mandrake, and has a scout around the area until she smells more Jath'tog mandrake at a crumbling corner of the hotel near the canal. So our heroes sneak into the staff-only basement, and the corner room where the root is growing around the semi-conscious form of the real organiser.
They cut him loose, and bring him up to date. He's unsurprisingly grateful, and quick to try to reverse the damage done by his impersonator.